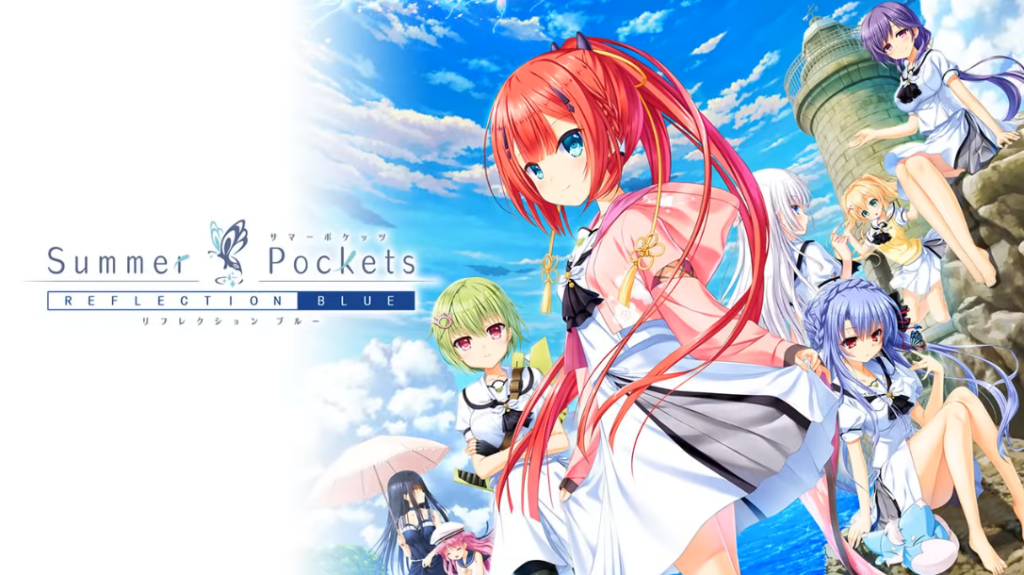 That's right—the time has finally come! The last of a seemingly infinite series of setbacks has been overcome, and our work is finally complete: the Summer Pockets: Reflection Blue full English patch is now ready for release!
First things first: the part I'm sure you all care about most! You'll find links to the patch on our Downloads page, along with the usual information on where and how you can go about buying a copy of the game. You'll likely notice that we're doing the actual patch downloads a little differently this time around—after two patch releases and two instances of our site getting bashed into oblivion by more traffic than it can handle, we've decided to host the actual patch downloads externally, at least for the first month or so. It's still totally possible that our site will get murdered anyway, of course, and if that happens, please bear with us!
You'll also notice that we've made two versions of the patch this time around! Long story short, we realized that the subtitled videos—a feature that not all players necessarily care about—account for a disproportionate fraction of the patch's size. Our hope is that offering a version of the patch without those subbed videos included will be helpful for anyone with a limited internet connection, or anyone who just doesn't care and wants the download to finish asap. If that doesn't apply to you, of course, you can go ahead and download the full patch! Finally, we've written up a route guide for the game, which you'll find right here.
That's about all the logistics that come to mind for the moment! Oh, one more thing, actually—if you happen to run into bugs, errors, typos, or anything else that probably shouldn't be the way it is, feel free to report it to us either in the comment section here or by @'ing us on Twitter! We'll probably put together an updated patch after a week or two with fixes for anything you find, unless we've done an improbably good job and you've found very little at all. This game is stupidly huge, though, so honestly, even though we've spent as much time as we can polishing the patch I would expect a fair number of bugs have slipped past our notice.
Anyway, that's enough of that—it's staff comments time!
Baku:
I was brought on to the team as a tester when Alka was already pretty far into working on the project, so I kind of missed a lot of earlier stuff, but I've been very pleased with what I've seen. Everyone on the team is very passionate and hard working, and I'm happy to have been with them in at least some capacity, and I'm very happy that the first VN project I got to work on was this one, and am looking forward to working on more in the future. The work they do is quality, and they put their hearts into fixing every stubborn bug they come across and making sure each line sounds just right. Please enjoy this patch and salute them whenever you see them, trust me, after seeing the kinda things Shimapong made them deal with, they earned it.
Bazett:
When I first started testing for Alka, I couldn't have anticipated how much I would enjoy and learn from it. Every single person on the team is incredible and together have poured many, many hours and probably more than a little of their blood, sweat, and tears into this Reflection Blue patch. I'll be keeping these memories safe in my pocket and hoping to make some great new ones in the future. Summer Pockets won't cease being close to my heart. I hope that you enjoy our patch to this wonderful work by Key.
Danshi:
It has been quite a while since this project started and I have to say, I am very pleased with the results. I think this is the best translation that could have been possible, made by people who appreciate the art and the genre as a whole. At the same time, I feel sad. It has been such a fun experience to make friends on this journey and hopefully leave some kind of positive footstep on the world. That being said, I am looking forward to working on more projects in the future! And I am sure some of us will meet again!
Kitaro:
Well, well, well what a wild journey it's been to get here. It was really such an honor to work on a work that genuinely changed my life, and to work with a group of team members– nay friends to get there. I hope you see just how much passion, blood, sweat and tears we put into this patch (especially those who fixed the bugs, y'all are literal gods). And I look forward to talking to y'all again soon as I go to work on Kud Wafter! Please enjoy the endless summer~
Log:
Boy. I have many words to say, but none of them adequately convey the emotions this release makes me feel. It's a melancholic kind of happiness, like the end of a book. Ultimately, though, I'm proud. We've worked on this project long enough and it means so much that the desire to comb back through it from the beginning with new eyes is very real, but there is such a thing as toxic perfectionism. So I choose to be proud of the work we've done, and of the people who did it. I'll never forget this journey. So really all I can say is thank you for giving me the chance to go on it.
Platy:
I'm so grateful I got the chance to help out with testing for this patch. Reflection Blue is such a worthy read, and our translators did an excellent job capturing the essence of the diction of this visual novel. Every line has the effort of many behind it, not just from our team, but from the original developers. Please continue to support Key and may this patch help you experience the perfection that is Summer Pockets Reflection Blue~!
Translator the Saito:
I think you've heard more than enough from me already and I've got Kud to work on, so I'll be keeping this short! This project was a massive undertaking that got stymied by waaaaay more setbacks than any of us could have anticipated when we started the translation process, so personally, I'm just glad we finally have it in your hands. Hope you enjoy!
Shota-kun
howdy! i worked on my parts of the game a while back, and i haven't been part of the team in some time either, but they hit me up to see if i had anything to say. and you know what? i do.

shizuku x tsumugi for life

best,
shota-kun
Credits:
Baku – Tester, Village Idiot
Bazett – Tester, Editing Assistance
Dana – Tester
Danshi – Graphics Editor, Programmer
Kitaro – Editor (Miki & Shiki routes)
Log – Translator (Shizuku & Shiki routes), TL Smoothing (Common, Kamome, & Tsumugi), Delay Creator
Platy – Tester
Translator the Saito – Translator (Umi, Nomiki, & new Misc Events), TL Smoothing (Shiroha, Ao, Misc Events, Alka, & Pocket)
Shota-kun – Editing (Shizuku & Umi routes)
Smacko – Moral support
Original Summer Pockets Translation:
August99us, Draconyan, Turbos86
Special Thanks:
Janson (Summer Pockets Original Project Lead, technical assistance)