Hello everyone! A very happy May to you, though I suppose it's still April right now, isn't it? So why, then, am I posting the May Status Report early? Well, I'm probably gonna be a bit busy during the final days of April, so typing this up closer to May just isn't practical. Why not May 1st? Because a little something is going on May 1st, and a Status Report would just be completely missed if I published it then! So let's address what's going on in the month of May for us.
Angel Beats 1st Beat. It's finally done. Iwasawa's route is tested, edited & in the books. Yui and Matsushita will be done throughout this last week, and on Friday May 1st, Angel Beats 1st Beat will be available to read in English for the first time ever. Exciting, isn't it? Now I'd like to reiterate that because of the sheer amount of ground to cover for Common Route, I can almost guarantee there's gonna be a few things we missed. We'll have a dedicated Twitter thread open for a week where you guys can submit any typos, blemishes, and other monstrosities via screenshot. Once that week is up, we'll go ahead and update the patch. You guys will get to play a part in making it better, which is kinda cool. And I'll emphasize just like I did last month, don't worry. I'm not "lowkey" saying that our translation is sloppy. Our translation is very good, I just cannot emphasize enough how much of a disaster the Common Route file structure is, so missing stuff is totally common. You'll see what I mean! Anyways, that's the main reason the May report is being published in April. Now onto other news!
Kud Wafter translation development is officially underway. In fact, within the hour I'm typing this, we just got a functional conversion patcher program working! Now, if you have the 18+ version of Kud Wafter but don't want all of the H content, you'll be able to use our patcher to turn your 18+ version into the All Ages version. We wanted to include this option because we plan on translating both the 18+ version and the All Ages version, but the 18+ version is much more readily available. The All Ages version is actually kinda hard to find. So we wanted to make the All Ages content much more accessible to those who want it, but aren't able to find the actual All Ages version of the game. An idea we're currently throwing around as I type this up actually, is also adding a separate patch containing upscaled and cleaned up images, so you can play Kud Wafter in "HD" a la Clannad on Steam, should you so desire. But that's a big maybe, we'll see how things go. Main priority is translating the game and getting it to you guys. One last bit of good news, our Translator the Saitou is forgoing his break period in order to get started on translating. I tried to tell the madman to enjoy some rest & respite after his excellent work on Angel Beats but he wants to just keep on trucking. So while Kud Wafter is still likely a long ways away, it just got THAT much closer! Depending on how his pace goes, we might actually see a late June release. Don't hold your breath though! I'm just being optimistic. That is, however, contingent on our next talking point.
Summer Pockets Reflection Blue is releasing June 26th, assuming the current worldwide pandemic doesn't delay it. We still plan to translate it, and as soon as our copies of it are available, work shall begin, and unless we are SUPER DUPER CLOSE to finishing Kud Wafter by then, we will be shifting 100% of our attention to Reflection Blue. To recap for those who missed the previous details about our intentions for Reflection Blue, we'll be using our script from the original Summer Pockets for it. It'll be a pain in the ass double and triple checking each line to make sure everything's where it should be, but that's way easier than translating the whole dang thing from scratch. Plus, this way, the only stuff we'll have to actually translate from scratch will be the new content! I'm really looking forward to it, and I hope that you are too!
The last order of business I want to discuss is our oft-mentioned secret project we've been working on the last couple months. As it's a lower priority project, it has unfortunately been taking a bit longer to get finished up and likely won't be out until probably June-July. I feel bad for keeping it a secret for so long, and in the name of fairness and not wanting to waste any more months' worth of time for people who will end up not excited about it, the least I can do for you guys is tell you what the project is.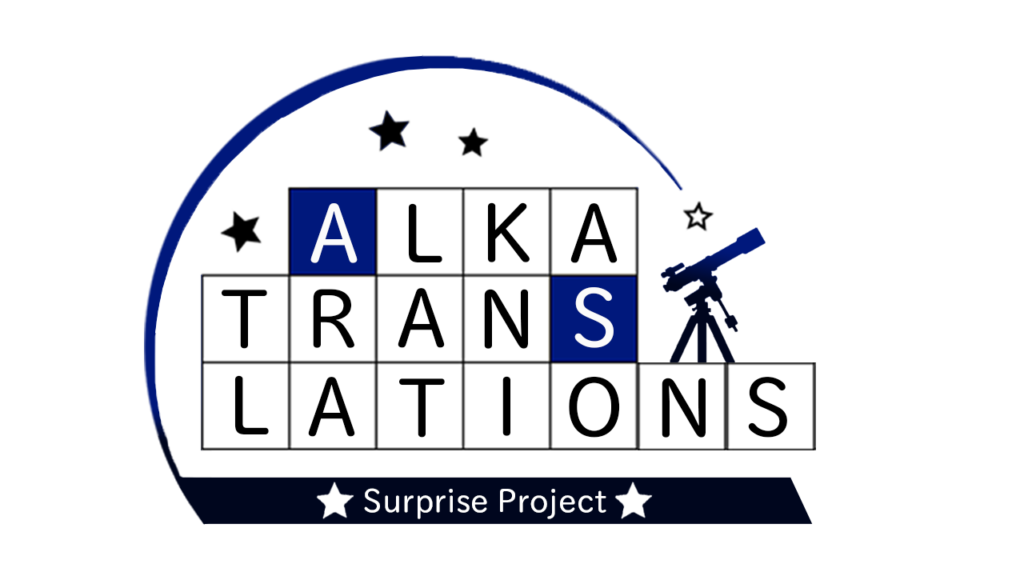 Miagete Goran, Yozora no Hoshi O: Fine Days! Known colloquially as Miazora and among English readers as A Sky Full Of Stars, made by the same folks behind the very popular Konosora/If My Heart Had Wings. We thought it'd be fun to bring the Fine Days fandisc to English, as it's short, it's cute, and we feel Miazora didn't get as much love as it deserved. As an All Ages version of this VN does not exist, we will not be making an All Ages conversion patch for this. It will be the 18+ version, with no removed or edited content & dialogue. But that's as much as I'm gonna say! I still wanna keep things MOSTLY in surprise, so I'll be keeping the progress to myself for now!
Anyhow, that's about all I have to say in this Status Report! Big things are coming for Alka, and we can't wait to talk more about them. But we've gotta release Angel Beats first! I'm gonna go get back to that now. We'll see you all on May 1st, members of the Like-Hell-I'm-50-Percent-Translated Battlefront!