Hello Alka friends! First time reporter Austin Doujin here to kick off the update threads for the sparkling new Emerald Team! I likely won't sound familiar for most of you, as my work with Alka Translations dates back to being a tester on the Summer Pockets project, after which I faded into obscurity. However, I will be joining the Emerald Team in full as a tester and part-time graphics editor for our upcoming projects.
Now in light of Visual Arts announcement of an official localization of LOOPERS, we have halted all work on our own patch as promised. We no longer intend to compete with other translation groups or companies as we have in the past. That was due to the work ethic of the previous team and the team leader's vision. The Emerald team fully intends to monitor announcements from Visual Arts (along with any other VN publisher) and stop work on anything that begins translating officially. This of course also means that our previous announcement that we will be working on the upcoming Key kinetic novels, Lunar and Porter, will be completely up in the air for the time being. We believe that holding true to this policy will help us bring the community more works that would otherwise not be translated. And with that out of the way I am very pleased to announce our next projects!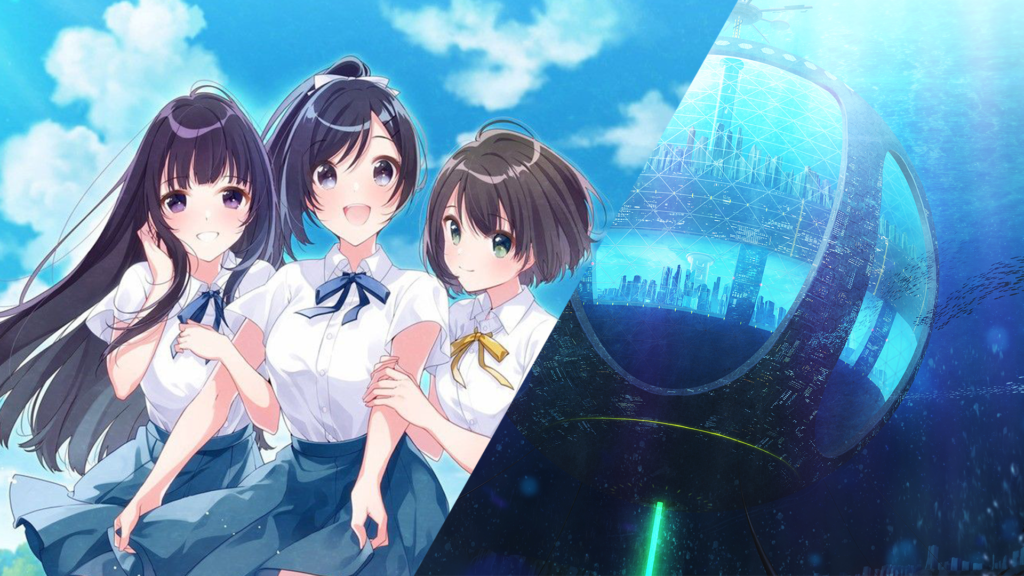 First up on our list is Clearworld, a short, futuristic VN released last year from one of the writers of Chaos;Child. Our other project, which we will be working on alongside Clearworld, is Aonatsu Line — a summer themed moege released in 2019 from Giga studios. Both of these visual novels boast fantastic art and are shorter than Alka's previous projects. We are currently working on getting the scripts from each so that translating can begin. Unfortunately, Kitaro abandoned us in our time of need to go on vacation, but he's finally back with a rejuvenated spirit and ready to get everything started!
And lastly but absolutely not leastly, I'm here to introduce the remaining members of the Emerald Team! As you already know, the team is made up of myself, returning members Danshi, Kitaro, and Bazett, as well as new members Lucia and Platy.
Also joining us are our new translators Peace and Rigs! They'll be working on separate projects, so there won't be any worry about translation styles clashing. And heading up the rest of the team are testers Baku and Marche! I've very excited to have met these lovely people and am looking forward to working with them, as well as getting to be one of the first to read through our new translators' work. But don't take it from me, here's their introductions in their own words:
"Hi there, everyone! I'm Peace, and I'll be translating Aonatsu Line! I'm a real newbie when it comes to the Visual Novel scene, unlike a lot of my associates, but like them I'm also a fan of Key. I'll be doing some of these announcement posts in the future when I have the time, so I hope you'll look forward to hearing more from me as well as my take on Aonatsu."
– Peace, Aonatsu Line TL
"Hello there, I'm Rigs. I'm probably not much of a familiar face, since I can't say I've had a lot of involvement with Key products and Key communities. That said, I found my way here after noticing Alka's interest in Porter, as I'm rather a fan of Romeo Tanaka's writing, so I hope to provide any assistance Alka may need with that moving forward. Prima Doll is another title in the newest lineup that I have some interest in, and I look forward to seeing us release more of that. I do somewhat have my hands full with more project work for another group (I work on Science Adventure Series patches under the Committee of Zero!), but I'm excited to bring what skills and devotion I can to Alka, so that you, the readers, can partake of experiences that otherwise might've never been opened to you. I hope to be one of your many bridges across the language barrier, for the sake of a clear world."
– Rigs, Clearworld TL
"Well, hello there! My name is Marche, and I was fortunate enough to be selected as one of Alka's newest testers! It's unfortunate that we weren't able to proceed with LOOPERS as planned, but I hope you're just as excited about our newly announced projects as I am! If you want to know a little more about me, I've been an avid reader/writer my whole life, and this year marks… my 15th year of reading visual novels?! Boy, do I feel old! I've been involved in a number of projects and communities over the years, so feel free to give me a poke if you've seen me around! Those who are intimately familiar with me know how long I can drone on, so I should probably start thinking about wrapping this up! Even if you're not over the moon about our choice of projects, we have no shortage of ideas for the future, so it's my hope that sooner or later, there'll be a little something for everyone! In the meantime, I'll do my best to uphold the level of quality Alka is known for, so please look forward to it!"
– Marche, Tester
"Hiya, I'm Baku, and, believe it or not, I like to read visual novels from time to time! Yeah I know, silly, right? I've, uh, actually been around Alka for a while now, but I never got around to writing an introduction until now. Whoops! Anyway, I'm a huge fan of all things Key, crying over anime girls, and romantic fluff, so I'm more than happy to devote my work towards helping more people have the chance to read more of the stuff Alka's working on however i can. I hope to one day get more involved in the VN industry, but that'll take a while, so for now, I'll just stick to combing through VNs for errors! I hope you all continue to support the team, and look forward to all the stuff we're working on."
– Baku, Tester
And with that I'll have to bid you all farewell from the Emerald Team for now. Please look forward to our Crystal Team update coming in a couple weeks and the next update from us Emerald Folks a month from now. Thank you all for the love and support, and have a wonderful rest of your day!